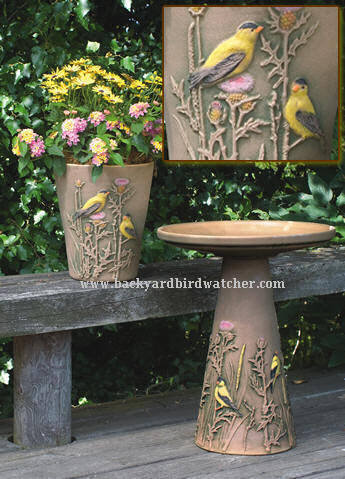 Hand Painted Gold Finch Bird Bath and 10 inch Planter Set
Style:clay bird bath,ceramic bird bath, stoneware bird bath
* Signed by the Artist*
Made in the USA
These hand-painted Wild Wings Series bird baths and planters are now an artist signed and dated collector series. And because each artist showcases a unique style, every hand-painted piece is a true original. Each birdbath and planter celebrates one of the garden's fine feathered residents, depicting then and their native habitats in rich and detailed color.
* Dimensions: Top 17" diameter 2.75" HPedestal: 19" H
* Sturdy wide diameter base for extra support
* 2 piece birdbath and 1 planter set
* Boxed for safe shipping.
NOTE: Allow 1 to 2 weeks for delivery
NOTE: PROTECT FROM FREEZING WEATHER