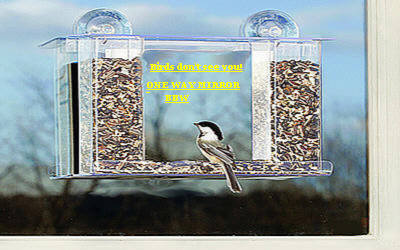 Songbird One Way Mirror Window Feeder
YOU SEE BIRDS,BIRDS DON'T SEE YOU!
Enjoy birds right up close — our Window Feeder lets you see every detail! Seed flows from the two hoppers to the center of the feeder where you get an unobstructed view. Add different seeds or blends in each hopper, you'll attract more species of birds. A crystal clear roof protects seed from weather, and two heavy-duty suction cups firmly adhere to any window. Easy to clean and fill too. Holds 1 pound of seed. 11-1/2 x 6 x 3-1/2 inches.