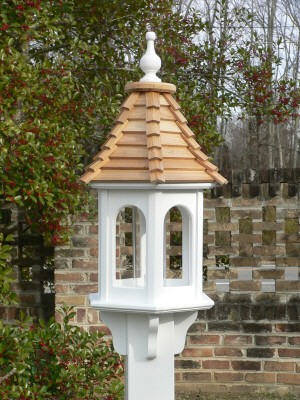 Shingle Roof Classic PVC Birdfeeder CS 10"

This gazebo bird feeder will not crack, rot, split or fade.

Wood Shingle Roof
This is a 10" bird feeder with a wood shingle roof
Acrylic tube in center holds plenty of bird seed
11"wide x 27"high
Beautiful Classic White Vinyl Design Bird Feeder
NOTE:Post NOT included but the sleeve to mount the 4X4 post IS included. The sleeve is 4 inch sleeve that mounts on a 4 X 4 post.
Post available locally in most home improvement stores.
OPTIONAL Vinyl square 4X4X72 vinyl post cover available upon request for $60.00.

MADE IN THE USA QUALITY PRODUCT
NOTE:Allow 4 or 5 days out of the warehouse.
FREE SHIPPING!
Wood Shingle Roof Classic White Vinyl Birdfeeder CS 10 in.
$195.00